How to prepare for my first VivaLing session
Here are some instructions to help you prepare before meeting your coach.
1 - Preparing for your first session
To connect to your first session, you can:
OPTION 1 : Install the VivaLing app on your tablet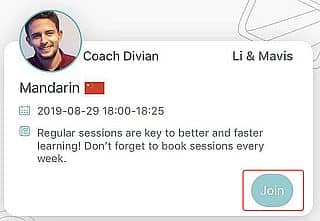 Use the same login and password as in your VivaLing personal account to log in.
With the VivaLing app, you can consult your upcoming and past sessions and join your coach's room for the session by clicking on a simple button :
Please not that the VivaLing app does not allow you to book or cancel sessions. To do this, you must connect to your VivaLing account from a web browser.
OPTION 2 : Install the Zoom app on your computer or tablet
To install Zoom, click here :
Before your first session we recommend that you test your zoom connection using this link.
When it's time for your session, you can join the Coach meeting room by simply clicking on the link attached to the booking email. It is presented like this:
https://vivaling.zoom.us/j/[suitedechiffres].
Useful tip: if you don't have access to your emails with the link, open the Zoom application, click on the "Join" option in the main menu and enter the "Coach Room Number "
* Coach Room Number: Each coach has his own room number. It is indicated next to the coach's name in your VivaLing personal space.
Two tips to remember:
Remember to test the Zoom app before your first session to make sure that everything (audio, video etc) works well. Click HERE (it takes 2 minutes!)
Install the VivaLing app on your tablet and the Zoom app on your computer. This way, you will always have an alternative solution in case of a last-minute problem (a tablet with a low battery, a computer that makes unexpected updates, etc.).
2 - Your first session: what to expect?
​During the first session, the coach will establish a friendly and warm environment to:
Meet and get to know the Learner and find out about his or her interests, needs and objectives.
Assess the Learner's current level accurately in order to create a customized learning program.
3 - After the session: report,videos and contact your coach
Our session report and video 😊 will be available within 48 hours.
These documents are confidential and only you have access to them. They are:
an excellent way to monitor your progress
an additional source of learning. Viewing your video between each session allows you to effectively review and improve pronunciation.
When it comes to pedagogical issues, your coach is your BEST interlocutor. His/her email address is displayed next to his name on your parent space.
A session can only be cancelled up to 24 hours before the start of the session. Within a 24 hour period, the session fee will not be credited back.
For special requests or if you need clarification on anything, our team is here to assist you at support@vivaling.com.
If you wish to speak to a language consultant about a specific situation or need, we invite you to book an appointment at your convenience.