How to get started with VivaLing
Find out below how to select your coaches and book your first sessions at VivaLing
Booking your sessions with VivaLing is easy!
1. Create your learner profile
When you registered, you had the opportunity to add 1 or more learner profiles. You will find them in the 'Your Family' section in your personal account.
If you wish to add a new learner to your account, click on 'Add learner'. Remember to fill in the interests of each learner so that the sessions can be personalised by the coaches.
Please note: Your account can contain up to 4 learners. If you have reached the maximum of 4 profiles on your account, contact us at support@vivaling.com.

2. Add a language to learn

In the section 'Your Language Journey'
• Click on 'Add a course'. If the learner does not have a profile, we invite you to create one by referring to the previous step.
• Follow the steps to determine the learner's level, objectives, and availability. Please give us as much information as possible so that the chosen coach will be able to provide completely personalized sessions.
Please note: Your account can contain up to 4 language paths. If you have reached the maximum of 4 language paths in your account, contact us at support@vivaling.com.
Now you're ready to discover the selection of coaches made for you!
– By clicking on 'Read details', you will have access to the coach profile and introduction videos.
– By clicking on 'Book', you can consult their calendars.
The two coaches we recommend remain your primary coaches. You can learn with both of them alternately or choose one of them as your preferred coach. Both of them have access to your learning file.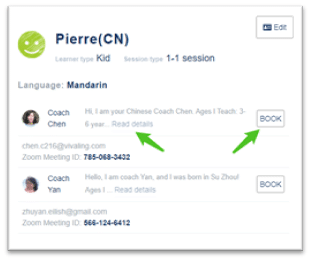 If the proposed selection of coaches does not suit you or if you have a specific request, contact us at support@vivaling.com and we will come back to you as soon as possible.
The red button 'Top up' allows you to credit your account to book sessions.

You have two options:
The 'Top up' option allows you to credit your account with the amount of your choice according to the duration and the number of sessions you wish to book (see 'our individual sessions rates').
You can also select 'Packages' with different values of $57, $199, $299, $499 or $999. These offer the best value (you can save 3%, 5% or 8% on your language courses). Once you buy the package, you will see the individual amount is taken from your account after each session is booked.
90% of our members choose to take a package for more comfort and convenience!
Please note: all your purchases, whether they are "Top up" or "Packages", have an unlimited duration of use. They can be used for all languages and all members of the same family – adults and children. You use your credit as you need it and as often as you like.
4. Book your first session
Once your account is credited, go back to the coach's calendar to book your first session.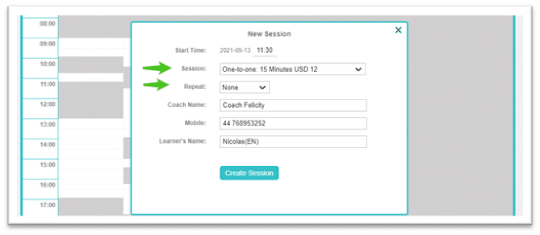 Select the free slot (in white) of your choice and choose the appropriate duration (15, 25, 40 or 55 minutes).
You can also book a session in advance over several weeks by using the "Repeat" option.
After each booking, you will receive a confirmation email with a link to your coach's room. You can click on this link on the day of the session to connect and enter the coach's room.
IMPORTANT – Right now, test your computer or tablet by following this link. This will ensure that everything is working properly before your first session. If you need assistance, contact us at support@vivaling.com.