Year 1, Middle School, Sixth Form, High School, College, 6th grade… All these terms from the Anglo-Saxon world of education, often still remain unclear jargon for many. This month, VivaLing takes a closer look at the subtleties of studying across the Channel and the Atlantic.
Television Introductions
Dawson's Creek, Beverly Hills 90210, Hartley Hearts to Heart: Without knowing it, the Millennials have mastered the rudiments of the American school system rather well since their early teens, thanks to the successful TV shows of their generation. Teen dramas shot all over the States – between high schools and colleges, from the trendy Southern California to the rolling hills of North Carolina.
Meanwhile, the English school system has made its masterful entrance on the international screen, thanks to the highly acclaimed Harry Potter phenomenon of the 2000s. A wizard's school for 11-17 year olds, Hogwarts has introduced the world to the basics of what a traditional British boarding school (Secondary and Sixth Form school) is all about in the collective imagination – uniforms, old stones and endless green countryside.
Storytelling
Beyond the images generated by the TV and the cinema, VivaLing takes you on a journey through time and introduces you to the schooling of Harry and Amy, respectively English and American pupils. As a bonus, to help you understand these two different curricula even better, we've added a summary table!
Harry is 3 years old, and his schooling starts during the Early Years, two optional years where British parents can send their children to Preschool, up to 30 hours a week, all of which is funded by the English state.
The situation is not quite different for Amy who, at the age of 5 and depending on the state she lives in, must attend kindergarten for a preparatory year before elementary school, free of charge. The previous years in the day-care centre are at the expense of the families, according to their means.
The Kick-off for the Official Start of Primary School
English primary and American elementary schools are defined with more or less the same rules as their French equivalents. One enters at the age of 6, learns to read, to count, and much more. Children leave between the ages of 10 and 11.
Harry will spend 6 years here, from Year 1 to Year 6, while Amy will spend 5 years, from 1st grade to 5th grade. They can then move on to the secondary school in England and middle school in the USA.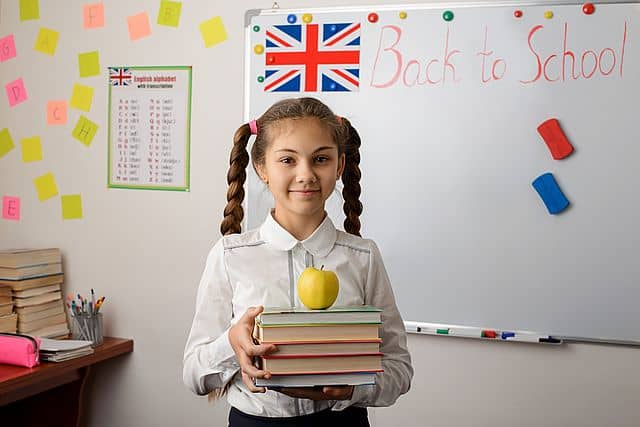 Secondary education
Like French secondary school students, Harry will prepare throughout his secondary school career – Year 7 to Year 11 – for his future school certificates, the GCSEs – General Certificate of Secondary Education.
Amy will not experience the same, as American middle schools consist of three years, 6th, 7th and 8th grade and offer a more natural transition from elementary to high school. Harry will complete his secondary education by the age of 16. He will be ready to leave secondary school education at 16 and make a transition to 'further education'. He will have some choices to make at this point.
Multiple Intermediate Levels
This is where Harry's journey can become a little more complex; some Secondary Schools offer further education options. Students could potentially stay at the same school until they reach 18, if that option was available. For those who do not attend a school with a further education option available, they'll have to change schools to complete their further education. They will move to a Sixth Form or College. The latter, as the USA High School pupil would have done, will deliver two years preparation for the A-Level certificate.
Across the Atlantic, Amy completes her high school career with a High School Diploma, which is awarded in great style at the traditional American graduation ceremonies – gown, cap and and a speech delivered onstage by the valedictorian of the class. It marks the end of her 4 years of high school – 9th grade (Freshman year), 10th grade (Sophomore year), 11th grade (Junior year) and 12th grade (Senior year). A few weeks before this highly important ceremony in an American student's life, the famous high school prom takes place, a prominent feature in  the American teenage filmography.
On the way to College or Uni
Freshly graduated, our two students are ready for general higher education if they decide to go or not. To be more specific, Harry may have had to go through the college route to get his A-levels (UK) and join a "Uni" or University, while Amy will have traded her High School Diploma for entry to college – aka an American University.
Lost between all these English terminologies?
In France, where the college noun is originated from, students in higher education were proudly heading towards "university colleges" at the end of the Middle Ages, the ancestors of today's French "Facultés" or "Universités". Yet, their Anglo-Saxon cousins continue to use this terminology inherited from the Anglo-Norman occupations when the original French word is not used anymore in the country who have created it!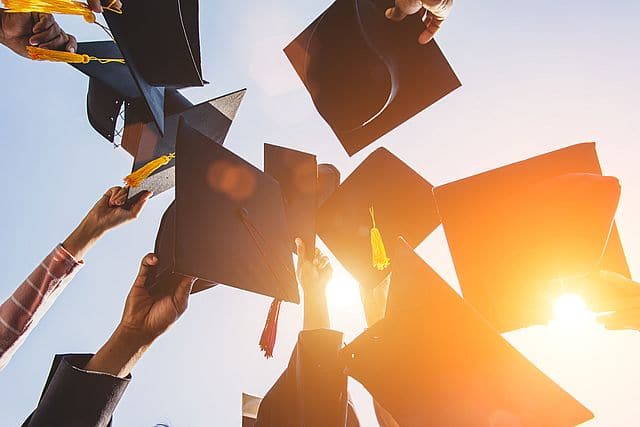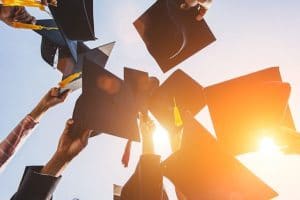 A Further Subtlety or Two
One could go even deeper and mention the fact that Harry could also have opted for a private education in a public school (as opposed to state schools or comprehensive schools, which are public and therefore free). His studies would then have taken place in a pre-preparatory school, Junior School and Senior School.
And what can be said about the grades or marks, which are substantially different from the French system too. In Great Britain, as in America, the most commonly used system, even if it is undergoing change, is that of the notation from 0 to 100. It can be expressed as a percentage, simplified in tens (from 0 to 9) or even transcribed in letters – the famous A, B, C, D, E, or F for the lowest in the class.
In Summary
Some of you, discouraged by so much complexity, may prefer to go back to Netflix and your favourite series, without any unnecessary questioning! Others may have finally found answers to their questions and be ready to throw themselves (or their children) into the deep waters of American or British schooling.
In any case, congratulations on having read to the end, and as a thank you for your attention and perseverance, a small summary table, which we hope to see even more clearly!