My name is Felicity. I come from England. I live in Canterbury. I studied Philosophy at Greenwich University.
How long have you been an English teacher for?
I have been an ESL (English as a Second Language) teacher since graduating at 21. And I have never done anything else.
Nearly everyone in my family is a teacher. From head teachers to special needs teachers. I think is in in our blood! J
I really love that I can change someone's opinion about a language. I never enjoyed learning second language, but I believe it is all in the way it is taught. Learning should be tied with fun and interest and this is my mission – for every session!
Why do you like teaching online?
Online teaching is so amazing. It allows 100% interaction with your learner. No need to waste time getting everyone's attention etc. The minute the session starts, you are in! It is also amazing being able to make your own material according to the Learner's preferences. Again, it is making things fun and interesting, and when I see them enjoying themselves it is the best feeling. So rewarding and it makes me want to do it more and more! I never wake up dreading that I have to work!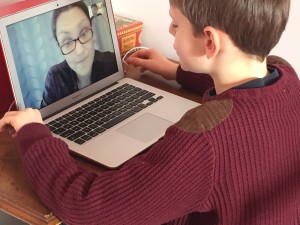 What food do you prefer?
I am quite keen on a good fish and chips (anyone who knows me will know that I will never say no do some Lindt chocolate either!)
What is favourite movie?
Mmmm, I do like the classic Calamity Jane, but I also find most dramas appealing! Of course I have also had to become a Star Wars and Harry Potter fan!
Which place do you like best in England and why?
Favourite place on Earth is wherever my family are. They are amazing. So loving and supportive. I wouldn't be anywhere without them. Even though we may sometimes be geographically far apart, we are as tight as can be!
What would you say to a friend to convince him/her to learn English?
I would say that English is fun! Corny I know, but give it a chance. Learn the way you enjoy learning – music, movies, celebrity gossip. Even though my second language leaves a lot to be desired, when I speak to someone in Spanish – give directions etc – the feeling I get from this is amazing. They are so happy that someone understands them and I am delighted to be understood!
"Learning should be tied with fun and interest and this is my mission!"