It is usually not recommended to reveal the ingredients of a secret recipe, but at VivaLing we are quite keen on sharing our magic with everyone!
If you haven't signed up with us yet and are considering it, here are the reasons why you should do so.
If you are learning with us already and would like to reflect on everything you love about VivaLing, we've put it into words for you!
Coaches are highly selected and rigorously trained
VivaLing is, first of all, a team of highly qualified and rigorously trained coaches from all over the world. The statistics speak for themselves: in 2021/2022, there were 2698 applications and only 1,19% were eventually hired to join the team. Making VivaLing one of the most selective academies on the market.
Because teaching a language can not be improvised, we select native level teachers, with a language teaching certificate (or a graduate degree related to language) and a minimum of 2 years experience. Once selected after the application process, they are committed to professional training, called VOLT, that will provide them with all the necessary tools to effective online teaching.
The month-long training tests their motivation, and allows VivaLing to assess the future coach's determination to apply the academy's innovative pedagogy and methods. Once onboarded, our coaches will benefit from career development follow-up, continuous training and services, such as wellness groups and community meetings that will allow them to feel looked after and thus encouraged in their daily duties.
The human touch
Because they are confident in their skills and teaching methods, our coaches also thrive at being themselves. Thanks to the training and resources provided, they feel confident and relaxed in sessions and can focus on creating an authentic bond with you.
Thus lessons with your VivaLing coach feels like learning from a friend, a familiar and friendly "face" that shares the most modern version of their native language with you. A language you can use immediately in the streets of the countries where it is spoken, but also during a job interview, or even an oral examination.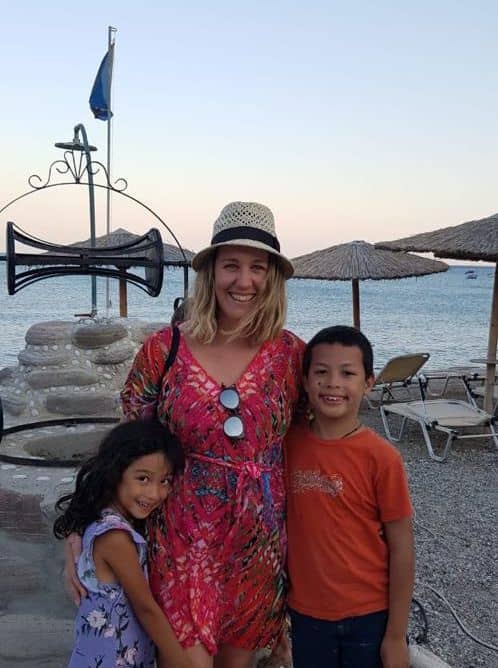 This very special touch provided by VivaLing coaches is a strong asset in keeping you motivated through your language journey, making every meeting with your coach a real treat. Unanimous and enthusiastic feedback is found throughout our customer reviews and they are shared regularly with our coaches to keep them motivated and encouraged.
More than a language class, a cultural immersion
When taking a language class with VivaLing, not only will your coach become your friend, but they will also bring you into a real cultural experience. In our academy, we value diversity.
We hire coaches from all over the world
We have Spanish coaches :
from Spain and South America
our English coaches come from the UK, USA and South Africa.
Our fantastic Mandarin coaches come from all the regions of China
our French coaches live all around the world too.
We provide space for our coaches to express their cultural diversity in their sessions. We encourage them to share their folklore and customs, specific sayings, vocabulary, and idioms. The more a learner is exposed to different accents and versions of the language, the more their brain becomes flexible in understanding foreign languages.
Through this value, not only do we support language diversity (each year 9 languages cease to be spoken worldwide) but we also support your cognitive abilities as a learner by offering you a wide range of choices in our coaches' profiles.
The material and resources used are modern, interactive, and up to date
One of the big advantages of online teaching is the wealth of existing online resources
Our dedicated team is constantly roaming the web to find the best of them, working on an ever-evolving toolkit for our coaches.
Depending on your interests, objectives, and personality – you may be a playful learner or rather an academic one – coaches will find exactly the right resources to take your sessions to the next level.
Aside from the VivaLing-designed curriculum, which is used as a reference to structure their sessions, they customize their content with the most up-to-date materials bringing life and excitement to their virtual classroom and keeping your brain constantly engaged!
Homework, session reports and, videos – an extension to your regular sessions
On top of the possibility of booking sessions at your convenience – with a choice of two coaches, 4 different session durations, and a frequency of your choice – VivaLing also provides true assets that will enhance your learning journey. After each session, your coach will fill out a session report that gives you all the details of what you learned as well as a link to your last session recording.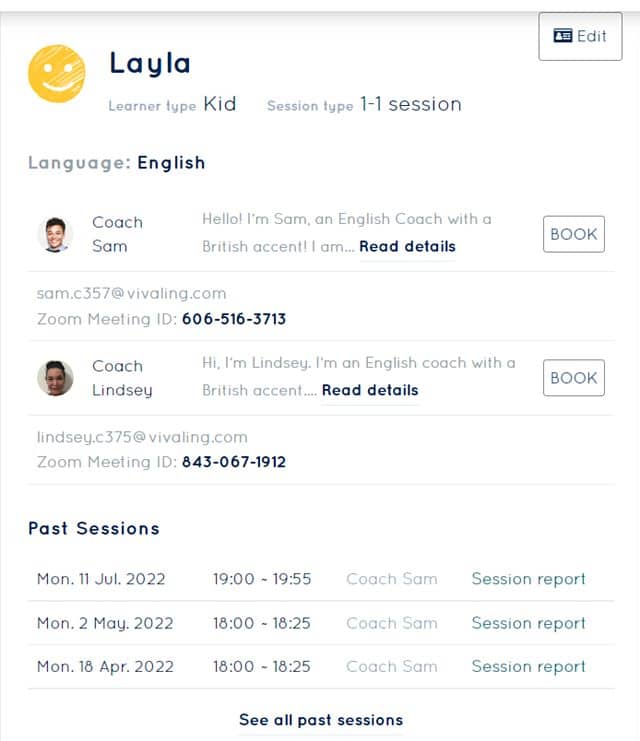 Watching the video recording of the last session before your next meeting is also contributing to your passive assimilation. Successful learning is – among other things – based on repetition, and reviewing a session is the perfect way to prepare the ground for the next one.
In addition to the traditional learning experience with the coach, VivaLing also creates free educational content available to all. With mini-lessons on YouTube, podcasts in English, Spanish, and soon in French, and blog posts, the academy is making every effort to make languages more accessible.
Learning objectives are met thanks to the curriculum and assessments
While learning must be fun and enjoyable, it doesn't take away from the necessity to assess progress regularly. To structure the classes, our coaches use our very own curriculum. Designed by our specialists, it is aligned with the Common European Framework of Reference for Languages (CEFR).
When you learn at VivaLing, you progress on a scale of 15 levels, from Sun to Elm; from Beginner to Proficient. Depending on your availability and motivation, you can easily achieve two to three levels per year during the foundation, primary and basic phases of your learning.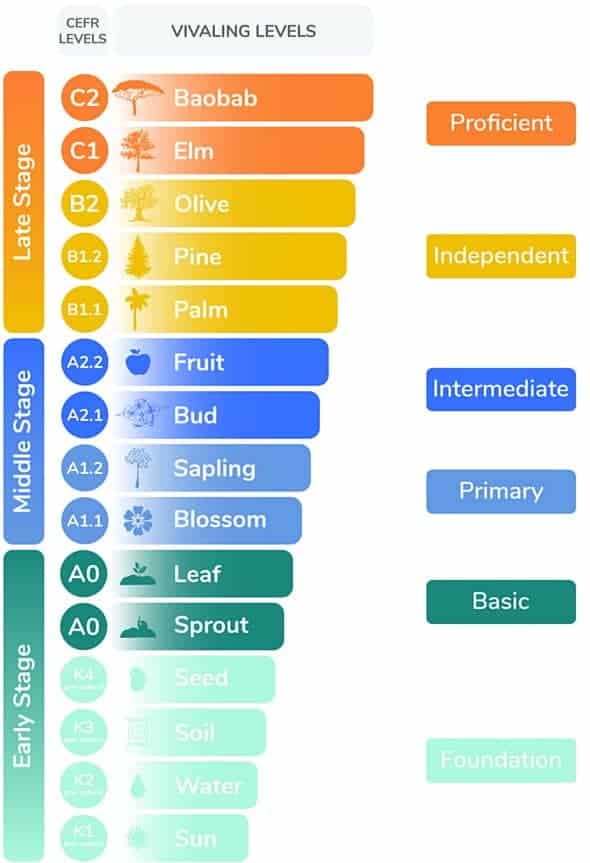 Your coach will look at your reading, writing, listening, and speaking skills while assessing you and recording your progress on their track sheet. To formalize this, an assessment opportunity will be offered to you once a year, and together you will evaluate the progress made over the last few months!
Intuitive learning – modern approach through a neuro-science-based pedagogy
Last but not least – the cherry on the cake – VivaLing is a patented and intuitive pedagogy based on neuroscience and inspired by the most modern language learning schools – such as the principled communicative approach.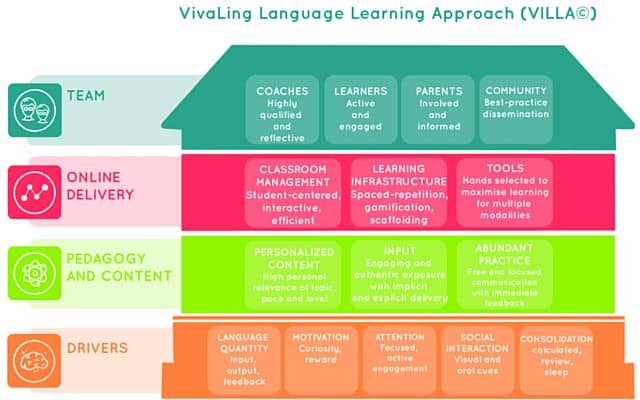 A magic recipe would not work without a proper learning method. VivaLing was created first by passionate educators who genuinely believe the language learning environment needed dusting off and thus put their whole hearts into creating a revolutionary approach – called ViLLA.
Since the VivaLing adventure started, the VilLLA scheme has been enriched and fed constantly by new research and, more importantly, by the learners' experience itself. Led by a Learning Team composed of our most experienced and qualified coaches, VivaLing's pedagogy renews itself day by day, bringing the learner's experience to another level!
All of that wrapped with top-quality customer support
Having the best pedagogy would be worthless if there wasn't also a true customer experience at VivaLing. While our Learning team endeavors to create the best learning experience, the Learner Support team dedicates its time to maintaining high standards and tailor-made services for our families.
We pride ourselves on effective and rapid responses to customers' requests. Our average problem solving time for non-emergency requests is 18 hours. This is possible through constant coordination between all teams to solve issues effectively and a corporate philosophy that keeps everyone aligned with the same values: the customer experience is at the center of VivaLing's focus!
"Always there to answer questions, very easy website to use. Possibility to book appointments. Packages for all budgets or top up option. Email reminders to advise you of upcoming sessions! Very handy!"

14/04/22 By Aude R.
The result of these efforts is remarkable longevity in our customers' journey. We have the unique pleasure to have customers who have followed us since our very beginning, engaging every single member of the family in a language experience. We aim to reward loyalty with various offers and two different programs: the loyalty program, offering many redeeming options to our most regular learners, and the sponsorship program for those who actively recommend VivaLing among their friends.