Today we are hosted by Erika and Romain who just came back to France after many years abroad.
Tell us a little bit about yourselves.
My husband Romain and myself, Erika, came back last month from Singapore where we lived for nine years as expats. We work with a large construction company. Our two boys were born in Singapore – they are 4 and 2 years old.
What are your best personal memories of multilingualism?
When we ask Maxence, our elder son, his citizenship, he replies : « Moi, I'm Chinese, et mon (petit frère) Amaury il est French » ("As far as I am concerned, I am Chinese, and my little Amaury, he is French", in a nice mix of languages). I must say we laughed a lot, but jokes aside it shows a great openness to other cultures and languages. Last May, we travelled to Yunnan, in South China. Needless to say that very few people speak English there. On the second day, we bought a mango on the market. We could not manage to explain to the hotel staff that we needed a plate to cut it. They were rather surprised, to say the least, when a little three and a half year old kid asked them for a plate in Mandarin !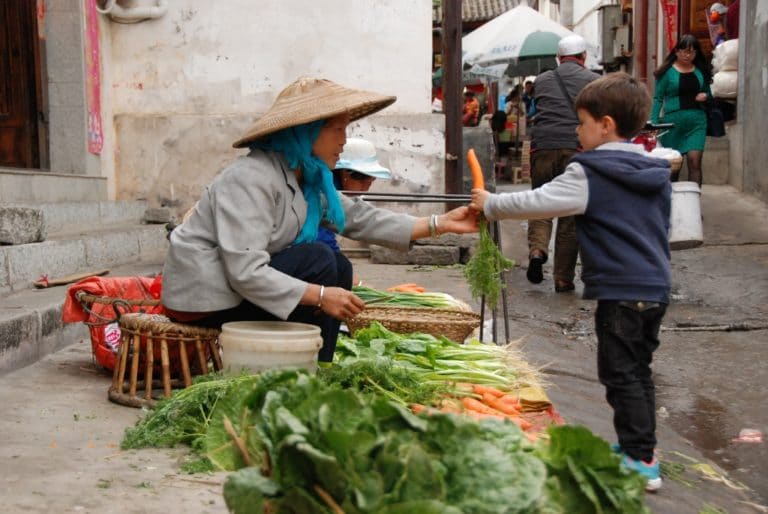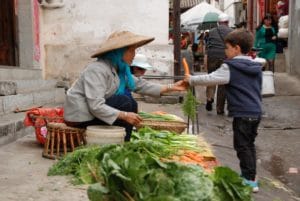 What is your children's linguistic journey ?
In Singapore our kids went to a local playschool and kindergarten. They would hear and speak Mandarin and English every day. We would speak only French to them to avoid confusion (and because our accent in English has room for improvement). Maxence had reached a point where his Mandarin and English were getting quite good, and it seemed to us a real shame to drop everything just because we were going back to France. He started Mandarin sessions with VivaLing in June, one month before we came back, to ease the transition. I must admit that we were not very confident as to the next steps, because at the beginning he completely refused to speak. However I could feel that he understood everything. After a few weeks, he uttered a "ni hau" (hello in Mandarin). Persistence paid off: now he interacts with his coach Sunny and speaks with her with an impeccable accent. He repeats, and plays while speaking in Mandarin in front of the ipad.
Amaury is still a bit young to stay 15 minutes seated in front of the ipad and take part in a language coaching session, but he will hopefully start a bit later.
Why do you want your kids to learn Chinese ?
My husband and myself are not really gifted as far as languages are concerned. We speak French of course and English. We have forgotten most of the German we learnt at school. Our careers are much more international than our parents', and the same will go with our own kids. Mandarin is spoken by a huge share of the population: they are very fortunate to be able to learn while having fun, and without any pain. It will be a door-opener in the future.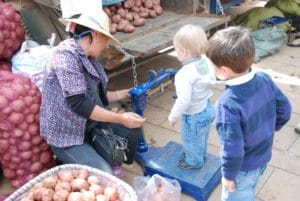 What does VivaLing bring you ?
I find it extraordinary that a little French boy should be able to interact with a Chinese coach living near Beijing, while himself living first in Singapore and then in France. Ties are built during the sessions which are meant to be fun. So much so that Maxence often tells us that he likes his "Sunny Laoshi" (laoshi means teacher in Mandarin). Coach Sunny adapts the sessions according to Maxence's mood, by telling him stories based on the toys he shows her, for instance. I enjoy very much the flexibility made possible by VivaLing : as long as we have an internet connection, we can go on with our sessions on ipad, even during the holidays. No need to go anywhere, the sessions are easier to schedule. We enjoy being able to view the recorded sessions over and over again. Once we have settled in with VivaLing in Mandarin, we are thinking of starting English sessions.
Many thanks to Erika and Romain for sharing their experience. If you too would like to be featured in this series, do get in touch with us!