Wondering how our coaches are selected for you? In this article, we reveal our little trade secrets through a praise of the diversity of our coaching team and their adaptability, the founding element of the exclusive VivaLing pedagogy.
When diversity serves pedagogy
First Contact
You have just registered at VivaLing and discovered your new selection of coaches. Excited by this new language adventure, you read your coaches' profiles carefully and not without haste. After exploring their qualifications and experience, your eyes linger on their areas of interest.
A former salsa teacher, a lecturer in geopolitics, an amateur pastry chef, a professional musician. Impressed at first by the diversity of their profiles, you wonder however how all this will "fit" with your very serious project of professional reorientation or the very "princess and unicorn" personality of your 7 year-old daughter.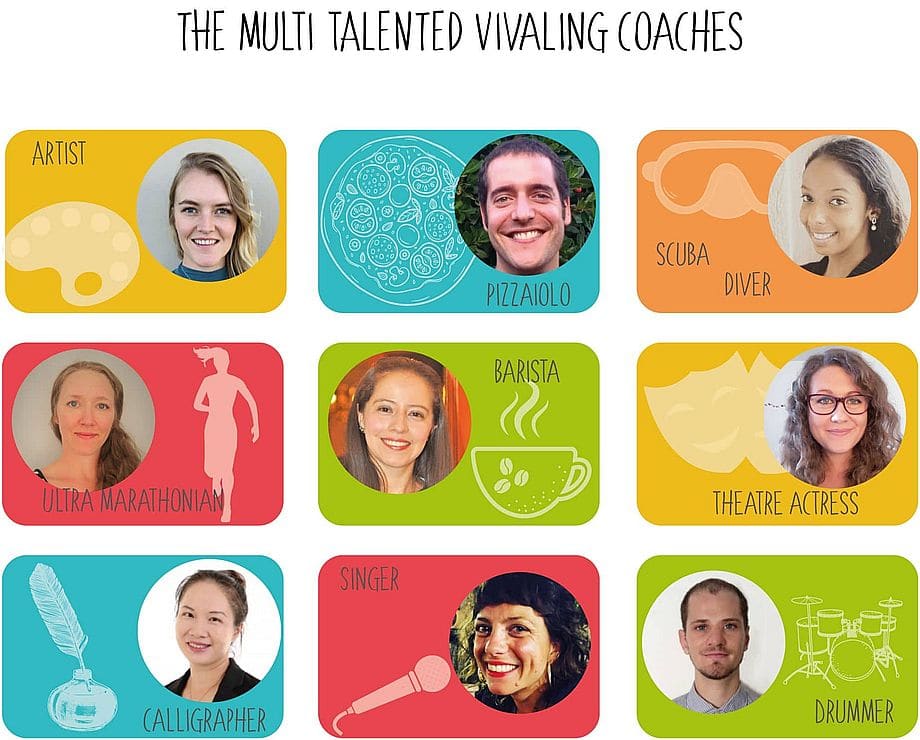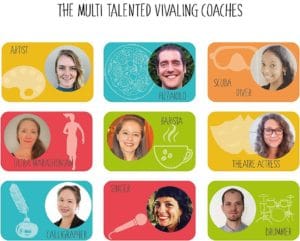 Your Interests, First and Foremost
Don't worry; your coaches adapt to everything, and, above all, they adapt to you. Without ever forgetting who they are, they fully dedicate themselves to the objectives and topics of discussion described upon registration.
This is why the two main criteria used by our support team to offer the best coaches are the learner's age and initial level and the specific objectives. The interests of your coaches will be – or perhaps not – something you stumble upon in your future conversations, but they are not a founding element!
VivaLing's Quality Guarantee
The VivaLing coach is recruited with the prerequisite of proven experience in communicative pedagogy – the very essence of which is pragmatic and effective teaching focused on the needs and interests of the learner. His or her initial training upon officially joining VivaLing, the VOLT, turns him or her into an expert in the field.
You can therefore confidently choose from among the coaches offered a personality and lifestyle diametrically opposed to your own and embark on the fantastic adventure of the first session blindfolded.
Diversity and Inclusivity
This is the richness of VivaLing, a breeding ground for personalities and lifestyles that are as complementary as they are varied: the VivaLing coach is often an adventurer, sometimes a nomad, a curious person by definition and, without a doubt, a jack-of-all-trades.
Beyond the already very enriching cultural exchange generated by the spontaneous conversation with them each week, it is also an opportunity to mutually enrich each other with often surprising ways of thinking and living.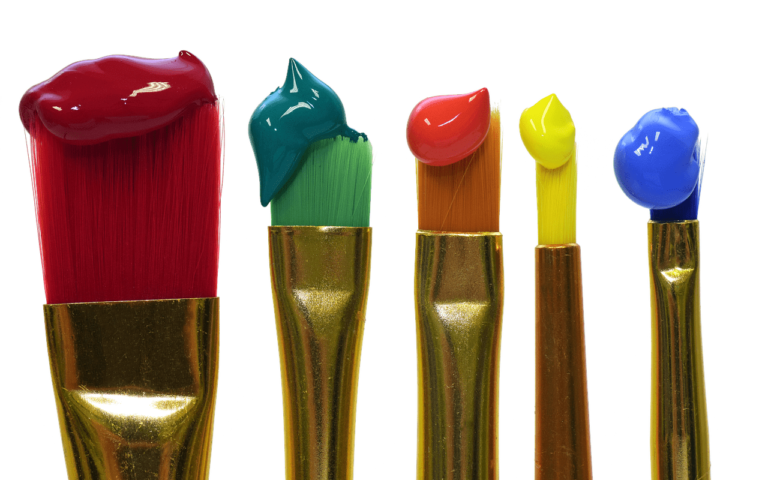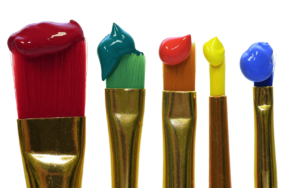 Several Lives Led at the Same Time
A sound therapist, a graduate in psychology, a professional singer, a published poet, our coaches are not only talented language coaches; they thrive in many other professional fields.
Some of them have pets that are original to say the least: an antelope, bees, worms, or a hedgehog carried in their luggage on vacation. Many of them devote their free time to animals in danger.
In Perpetual Motion
"Mens sana in corpore sano". Our coaches are on the move. Among them are also great sportsmen, sometimes from the extreme. Ultra marathon runners, black belts of Taekwondo, high mountain climbers or scuba diving coaches.
And then there are the foodies! Those who blog the recipes of their home country for the mass public or those who embark on the adventure of training pizzaiolo or barista to create their own small business. Our coaches never run out of imagination when it comes to reinventing themselves.
All Things Considered
If there is one rule from which VivaLing does not deviate, however, it is the predominantly female characteristic of the world of education. This does not prevent our female coaches from adapting to our male learners, even when it comes to discussing construction techniques, video games, or the football championship!
Another area where VivaLing respects another rule, this time a genetic one, is Gorlin's Syndrome. In fact, 8 to 10 percent of our coaches can touch the tip of their nose with their tongue and proudly talk about it in their profile! And you, are you blessed with this talent?