Child of Ohio, having lived in the four corners of the world (Australia, Singapore, Hungary, England and Belgium), Abbie, Head of Learning at VivaLing and co-author of the ViLLA© method, has now settled down with her family in Michigan and tells us about her journey and her love story with the Principled Communicative Approach to language teaching.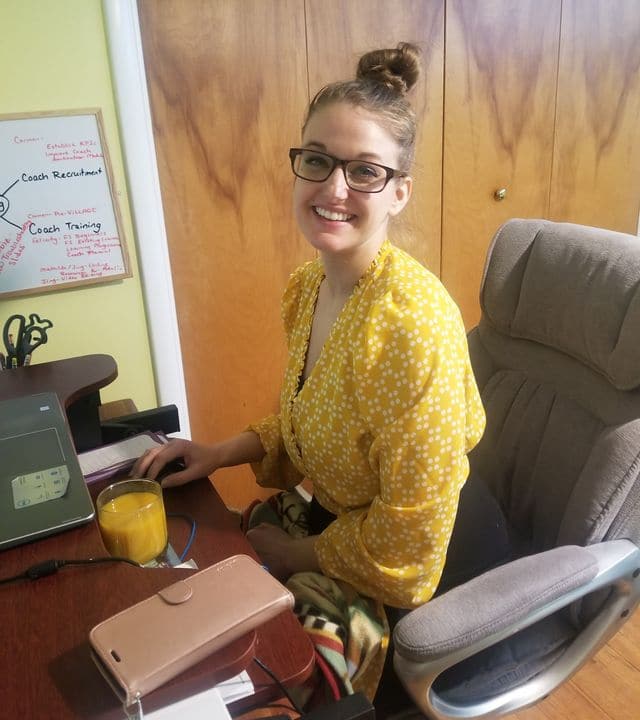 From Sydney to Singapore – back to the origins of VivaLing
It was during her university studies that she discovered the Principled Communicative Approach to language teaching. While a student in Sydney, Australia, sitting in the Royal Botanic Gardens opposite the city's famous bridge, she first learned about Zoltán Dörnyei's landmark study.
Sign of fate, a few years later, when she had just become Head of Learning at VivaLing in Singapore, the co-founder of the language school, Bernard Golstein, who had had personal contact with the Hungarian author of this new pedagogy, forwarded the text to her again.
The theory then imposed itself on Abbie as a resolutely innovative and pragmatic way of teaching languages – while adapting perfectly to the very structure of online teaching – thanks to all the creativity it allows through a resolutely more playful and pragmatic approach to languages.
Mutual respect
With the benefit of hindsight and a few years of practice – Abbie joined VivaLing when it was created in 2014 – one of the main sources of satisfaction and fulfilment linked to this style of teaching is, according to our Head of Learning, mutual respect and the authenticity of the relationships established, putting an end to the "unproductive teacher/learner power dynamic". Thanks to the permanent consensus around the setting of objectives between teacher and learner, the aforementioned really get to know each other and reach together the targeted results more quickly.
One of the experiences she likes to cite as an example is that one of her students from Mongolia had to learn English in order to be able to follow her university course. She was immersed in an English grammar book that she had almost completely read and completed when they met, but she still couldn't hold a conversation – even a basic one – with her teacher. This served as a revelation of the inevitable and necessary changes to be made in language teaching that Abbie now preaches with determination at VivaLing.
VivaLing – a breeding ground for forward-thinking coaches
At VivaLing, when recruiting, candidates' familiarity with Communicative Language Teaching is a key criteria. All future VivaLing coaches are therefore at least familiar with the communicative method, and in the best case scenario are whole-hearted practitioners of it. Once integrated into the academy's ranks, their initial training – the VOLT – allows them to upgrade their skills.
The diversity of practice among our coaches is then due to their different application of the 7 principles, explains Abbie. Some will naturally be very comfortable in building grammar, others in establishing strong relationships with their learners. It is at this level that the mentoring provided by the Master Coaches team will make the difference, building new principles into their repertoire throughout their time with VivaLing. And the main source of satisfaction as a trainer – she proudly announces – is to see these teachers discover new skills they didn't know they had as a teacher thanks to regular follow-up interviews with their supervisors.
Beyond professional life
Since becoming a parent herself, Abbie has been practicing the communicative approach with her 16-month-old daughter on a more personal level and sees the benefits in her daily life. Raised in a multilingual environment, Kiki is naturally acquiring her own language system and rules while receiving constant input in both her native languages.
An anecdote she enjoys mentioning illustrates the practice perfectly: the word "up" – used by Kiki as an injunction in most movement situations, for sitting as well as standing – is corrected implicitly. Instead of thwarting her learning by explicitly changing the word used, Abbie and her husband continue to present Kiki with a wealth of vocabulary, and the budding young linguist will decide when it's time to use these new alternatives.
This positive philosophy is widely applied to VivaLing learners – under the gentle guidance of Abbie and her team of tutors – which allows all our students to blossom serenely as they gradually master their new language.